Product Description
X Ray Flat panel detector Image processing system
CP Series X ray Flat-panel detector/Image Intensifier X Ray Machine
Provides a total digital imaging solution for conventional NDT. it is based on amorphous silicon TFTs, generating high-resolution corrected radiography images within 1.4 seconds, immediately available for further processing at system level.
Model
0822
1313DX
2520DX
2530HE
Pixel area(Total)
204.8X204.8mm
130x130mm
19.5x24.4mm
249x302mm
Matrix pixel(total)
1024x1024(1x1)
1024x1024(1x1)
1536x1920(1x1)
1024x1024(1x1)
Pixel pitch
200
127
127
139
Convertion screen
Csl or Gd2O2S:Tb
DRZ+,Csl
DRZ+,Csl
DRZ+,Csl
Energy range
20kvp-15Mev
40kvp-225kvp
40kvp-320kvp
20kvp-16Mev
A/D Conversion
16bits
16bits
16bits
16bits
Frame rate

25fps(1x1)

50fps(2x2)

30fps(1x1)

60fps(2x2)

12.5fps(1x1)

30fps(2x2)

9fps(1x1)

30fps(2x2)

Operating temperature
10-35(max)
10-45(max)
10-35(max)
-10-40(max)
storage temperature
-20-70degree
-20-70degree
-20-70degree
-15-50degree
operating humidity
10-90%
10-90%
10-90%
10-95%
Weight
10.9kg
2.1kg
2.51kg
13kg
software
chinese/english optional
chinese/english optional
chinese/english optional
chinese/english optional
Imaging processing software functions:
System operation language:Chinese or English
Interface:window operation
Picture format:standard bmp format
Real time inspection: operator can observe the positive and negative plate of dynamic images on the screen directly,and also can adjust the lightness and contrast to achieve the best result.
Integral noise reduction:Can do 8.16.32.64.128 and 256 frames superimposition for noise reduction
Image memory and numbering:Please set the path of image memory (for example: D:\temp) and document name before collects, the collected images will automatically numberize and memory into the setting path, the number of image can automatically add each time.
Image displaying:can do the various displaying of positive, negative plate and fake color.
Image processing:Mainly includes the processing functions like grey value adjustment, edge enhancement, histogram displaying, embossment and so on. grey value adjustment can do the transition of lightness, contrast and grey value; edge enhancement can improve the image definition; embossment can extrudes the failures on the images to achieve the stereo effects.
Measuring tools:Can do the measurements such as grey value, perimeter, area and so on.
Dimension demarcate:sets the unit dimension length, can get the actual dimension value directly during the measurement
Parameter demarcate:Mark the parameters(date, time, voltage, current. Product standard and so on) during the inspection period on the picture
Area processing:Can do the choice, delete, cuts, stick, image processing and memory of area
Character marking:Can marks the graphs and characters on the image, for example, graphs for failure, marks for failure dimension, area and so on.
Report function: record images into database, data report can open or printing directly. Record data consist of: image name, save path, radiography voltage, current, inspection date, test product, material, defects etc.
Product pic: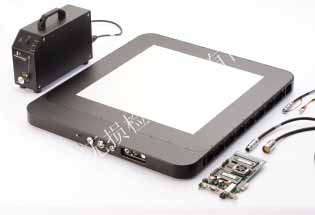 image intensifier used on system: